The last news update scored over 100 comments, so I guess you guys deserve another one. Next update will happen if this news gets over 9000 comments.
Progress has been steady on most fronts. The Project Overview page has been updated, but here is a run-down of the most important developments:
Super Robot Wars J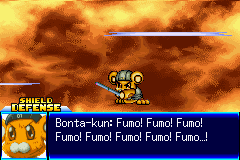 Editing is complete! Deets did an exceptional job in finishing the whole mammoth script in such a timely fashion. Now he moved on to work on editing images (he has a talent for that too!). Notice the "Shield Defense" graphic in the screenshots next to this. There are only very few images left to edit (and hack). This project is really close to being done now. Beta testing should commence within the next few weeks. (No we don't need any testers, thanks).
Super Robot Wars F
Speaking of super robots, F did also make a huge leap in progress since the last time. Tyria is almost done translating, all that's left are a few entries in the character database (Bonus content giving an overview of the characters and shows that appear in the game). Once he is done he will start to get cracking at SRW FF soon. In case you didn't know – SRWF is only the first half of the story, F Final tells the other half. You can import your end savegame from the first game and carry over all stats, money and items to the new game. A translation of F alone would be pretty unsatisfying, but don't worry, we will translate both.
Since the script is in such an advanced stage, Kingcom also started hacking the menues and made good progress. The project should get even more attention once J is released. By the way, Deets also signed up for editing again and already edited the first scenario! Rock on Deets!
Oriental Blue & DQM 1+2

This project is also progressing smoothly. More menues are done, what's left are mostly minigames. Tom edited the script like 20 times in the meanwhile too, so it should be pretty polished. Speaking of Tom, the script of DQM 1 is completely translated. Kingcom also started hacking many menues. I played it for a bit already, and the first game is really quite playable already. More progress on this one is on the back-burner though until Oriental Blue is finished.
Tales of Innocence
The Tales of Innocence project is also going absolutely great. The script translation was finally completely finished a few days ago! After a massive marathon session of translating the last skit was translated well ahead of schedule. The script is being edited now. Another project that should enter beta testing very soon.
Kingcom also spend a great deal of time on his assembler called armips. While working on our projects over the years it was clear that goldroad/spasm and the other available assemblers for our target platforms were shit. So he wrote his own! After a ton of features were added he finally made a public release some weeks back, you can read about it (and download it if you like) at this thread. You can also see the feature list there and leave feedback if you like. I'm sure he'll be glad to know if any other soul besides him uses it.
That's it for now. There probably won't be another news update until a release is ready (the 9000 comments thing was a joke). I'm sure though this time it won't be another three months. Stay tuned.