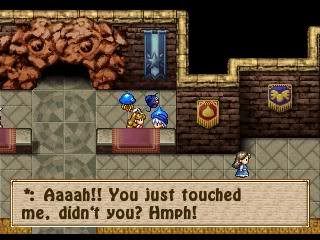 Dear readers, this will be a BIG update. Not only do we have lot's of news, no, to commemorate the event we also have a ton of pretty pictures to look at. We hope you enjoy them.
First off, we have a new project to announce, one that should please especially our long-time fans who are with us since this was just my personal little site about my newb attempts at hacking Caravan Heart.
Dragon Quest Monsters 1+2 (PSX Remake)
The hacking is currently being handled by Kingcom and none other than Tom (who also translated Caravan Heart) is working on the translation part of it. So far the project is already going very smoothly. As you can see in the screenshots a VWF is already implemented and working. Menu hacking is a different beast and will surely cause some headaches later on, but when did we ever let that stop us? I've been told the translation is progressing smoothly, although Tom will be moving to get a new job soon, so progress might slow down for a few months.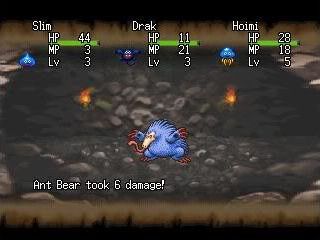 Xenosaga I+II DS
Yes we know, it's been ages since we talked about this one. Translation is steadily going forward though and we also got a help offer from another translator, so things might move along even faster soon, if the original translator gives the OK. Here are some screenshots of translated scenes from the game:

Oriental Blue
Oriental Blue has been completely translated for a little while now. The news about that was eaten by the server crash, so here it is again. Kingcom also continued hacking work on it, so it's getting closer to completion all the time. There is still a fair bit of stuff to be done (lot's of minigames that'll surely require lot's of annoying image hacking) but this project is propably the second closest to completion apart from SRWJ. Speaking of which, it's still in editing. We now started to edit the chapter graphics too.
Anyway… back to Oriental Blue. Yeah it's going great and to apologize for the lost news entry here is a bunch of screenshots: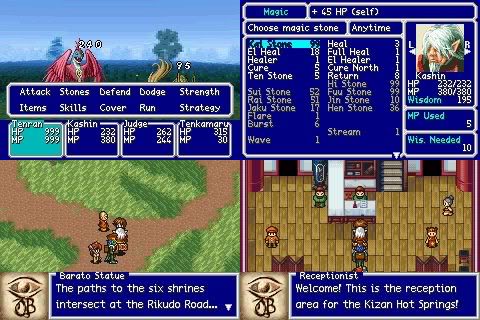 Devil Children – Ice Book
This one has also been translated for quite a while already, but the hacking of this game can only be described as a neverending nightmare. So don't give me too much flak for slacking off on this one. It will be finished though, even if I'll lose my soul in the process (not unlikely). We noticed we never showed any menu screenshots of this game either, so enjoy these. I paid for every single correctly menu label and every single correctly printed string with blood.

Tales of Innocence
Absolute Zero's throughhim413 made a few special progress reports. Instead of just writing about it, he created two videos with commentary by himself. Pretty neat, be sure to check them out:
And before you ask, no I won't do such a thing for any projects here. My accent is why too thick for you to understand anything anyway =P
Also… Could anyone create a new site theme for us?

Together with this news, the Project Overview page has also been updated. There has been some, ehm, critique, that we shouldn't make such a page if we don't update it often. It's purpose is not to give you 0.01% exact live updates updated directly whenever we receive 2kB of text from one of our translators. The page is intended for new visitors who want to get a overview over all the projects combined into one page instead of reading up on all the news entries of the last two years. In that spirit we'll probably update it only when we also have a front-page news like this.
Last but not least, we have a little request from you. We'd really like to have a new theme for the website. Is there a fan out there with webdesign talent who could help us out with this? Both Kingcom and I are pretty much n00bs when it comes to web stuff. As you can see on the Xenosaga screenshots, the current theme has some problems with pictures for example. 800×600 really isn't up-to-date anymore, we'd really like a 1024×768 optimized design. There isn't much we can offer in exchange for any help, other than access to our betas when they are done (might still be a few months off before we get to the first).
It would really be kick ass if someone could create something for us. We don't have any fixed ideas on how it should like, I guess the only parameters are that it's a WordPress theme, compatible with the newest version of WordPress and that it should handle pictures better than our current layout. Leave us a comment with a valid mail address if you'd like to help.
That's it for today, thanks guys and look forward to more news whenever it's ready.