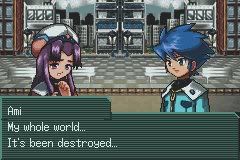 Tom has been on steroids recently and completely finished the script translation of Devil Children: Ice Book! This is a major milestone for the project and one that's sure to point the way for more good news. Next up for this project will be finishing the hacking and formatting the text (sadly no auto formatter for this one). I already started on the later part a little bit, but there are also still tons of hacking issues to sort out too.
There already has been major hacking progress recently. Kingcom rewrote the game to use 1 Byte text instead of 2 Byte SJIS, which fixed our lingering naming storage issues. It destroyed just about everything else, but hey, it's all a matter of time. Furthermore the naming screen has also been hacked. That's a major step since it should be one of the most difficult to hack menus in the game. Other menu fixes are too numerous to list, but we're getting there.
It's coming along nicely!
Another matter I'd like to address is that we get asked a ton about what's the progress on Project XYZ. We write updates on this site for a reason, to keep you informed. When we don't mention a project than there is propably nothing exciting to report about. Most are in translation, and translating takes a lot of time. We can only hack one game at a time, so sometimes we make a ton of progress on one game and not a single bit of progress on other projects. This is completely normal and doesn't mean we abandoned any of the other projects. It also doesn't affect how long it takes for the other projects to be released, since the part that holds them up is usually the translation and not the hacking. When there is something to report you'll read about it here. So please, reduce the redundant "Nice news but how is the other one?" comments.
Last but not least there is apparently a bit of confusion about which persons are working on which project. Otherwise no one would ask Tom how the translation of Xenosaga is going … To redeem that we created a project overview page. There you'll find the people that are associated with each project and where the project stands.
That's it for today and I hope you're as excited about DC as I am! Progress form my side will be a bit slow for a couple of days, but you can blame that on Fallout 3. Absolutely the best game released this whole year so far. Shit! It's that good >_< I need days with 30 hours each please…