As usual, it's been a while! I apologize for my trademark silence, but as everyone knows, it's nothing unusual.
The previous armips version was released in 2010, and it was very well received at the time. Over the years, I kept adding small new features to it, and I think it's a good time to release an update now. The most notable additions are static labels, which act like global labels but can be redefined in every file, and the possibility to make all file paths relative to the file that uses them (as opposed to the working directory). Everything together makes for a decently sized update. This is probably the final armips release.
Here are the changes:
added automatic optimizations for several ARM opcodes
many bugfixes and internal changes
added static labels
new directives: .warning, .error, .notice, .relativeinclude, .erroronwarning, .ifarm, .ifthumb
quotation marks can now be escaped in strings using \".
[wpdm_file id=4]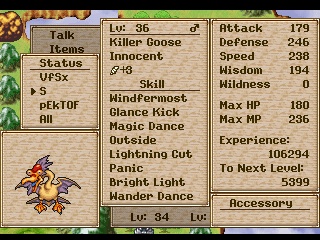 Now that the exciting stuff is out of the way, let's talk a bit about our translations! One game is often asked for, but it hasn't been mentioned by me for quite a long time – Xenosaga 1&2. The translation is still progressing, and in fact, late last year, the story text was finished. However, there is still a lot of optional text left. The translation is progressing slowly, but the translator is as dedicated to the task as I am.
The game on the left hasn't made a lot of progress lately, but hopefully that can change soon. I'll try to at least upload some new media during the coming months.
Oh, I nearly forgot: We collaborated with Absolute Zero to bring you one of the most influential Tales games of the last decade, which just happened to be finished today – Tales of the Tempest! More about that on their site.